Toni Schroeder, of Coldstream, receives the Rally the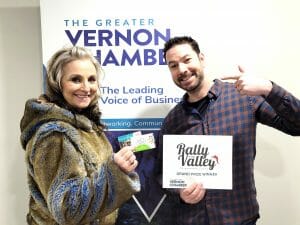 Valley prize package from Dan Proulx, Greater Vernon Chamber of Commerce general manager. Rally the Valley ran prior to Christmas and it encouraged residents to support local businesses and non-profit organizations. The prize package included a $500 gift card from the Village Green Shopping Centre and $500 in Downtown Vernon dollars.
The Greater Vernon Chamber wants to Rally the Valley to support local this holiday season. There are many ways to care for your community which include shopping, eating, experiencing and giving locally. We want to thank and reward those who make a positive difference in Greater Vernon with a chance to win a grand prize valued at $1,000. All you have to do is tell us how you supported local. Contest ends December 23rd and the winner will be selected January 3rd.
Win a Prize Valued at $1,000
Top Reasons to Shop Locally
Sales tax goes towards community infrastructure, police and fire protection, culture, and recreational programs
Local businesses have the ability to support non-profits or donate fundraising prizes for schools, sports groups and health care.
Local businesses are more likely to shop with other local businesses. Research shows that for every dollar spent at a local business, 63 per cent is reinvested locally.
Non-profits provide vital community services and create employment, and they depend on local businesses for donated funds to help with programs and operating costs.
Schools, sports teams, seniors groups and cultural organizations receive donated items from businesses for auctions, raffles and special projects.
How can you expect area businesses to support your ask if you don't support them?
Supporting local business means you're helping to secure jobs and opportunities for your neighbours and children. 

Local businesses provide some of the most stable employment opportunities in the community and these employees spend in the local economy. 

Locally owned businesses provide inspiration to our young people, proving that they can live here and pursue their dreams.
Shopping in Vernon means no need for long drives. You are not burning fuel and contributing to greenhouse gas emissions.

Local businesses make more local purchases requiring less transportation.

There is less packaging involved.
Vernon business owners and their staff are informed about their products and are available for questions and support.

Local business owners and employees get to know their customers.

Local businesses are generally owned or operated by people who live here and are invested in our community.
Local shops create distinctive shopping experiences and respond quickly to the needs of customers.

Local business owners often sell local products, which creates a vibrant community and creates jobs.

Our community has dozens of small and medium-sized businesses that have been here for years, and many who are establishing new roots.

The Greater Vernon Chamber is proud to sponsor Rally the Valley as well as other initiatives that promote businesses and non-profits and encourage residents to be local.
The Chamber is a membership-based organization, that currently has more than 600 members. We have been advocating for businesses and non-profits in Greater Vernon since 1897 and ensuring that they have the supports necessary to thrive.
For more information on the benefits of being a Chamber member, CLICK HERE